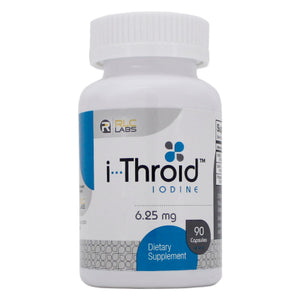 RLC Labs
i-Throid 6.25mg (90 caps) by RLC Labs
Regular price
$17.99
$0.00
Unit price
per
I-Throid® is a superior iodine formulation created to enhance thyroid treatment and offer long-term, consistent results.
i-Throid contains the ideal balance of iodide and free elemental iodine which is highly absorbable and binds with tyrosine to produce thyroid hormones.
i-Throid works synergistically with Nature-Throid® and a-Drenal to offer a well-rounded, highly effective thyroid treatment protocol.
Serving Size: 1 capsule
Amount Per Serving:
Iodide ... 3.75mg
(from Potassium Iodide USP)
Iodine ... 2.5mg
(from Free Iodine USP)
Potassium ... 1.2mg
(from Potassium Iodide USP)

---