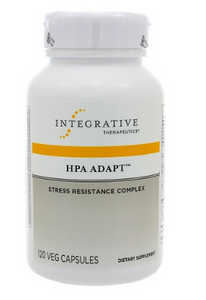 Chambers Supplements
HPA Adapt by Integrative Therapeutics
Regular price
$39.99
$0.00
Unit price
per
Powerful adaptogenic herbs are combined to improve mood, create calm, reduce stress-related fatigue, and support cognitive function.* By supporting homeostasis along the hypothalamic-pituitary-adrenal (HPA) axis, HPA Adapt helps maintain stress hormonal balance and a healthy stress response.*
The body has a built-in system known as the hypothalamic-pituitary-adrenal (HPA) axis. The HPA axis helps maintain hormonal homeostasis even during times of mental, emotional, and/or physical stress. The HPA axis is designed to balance mood, energy levels, and cognition.*1 Evidence from animal studies shows the HPA axis also helps support neurological, gastrointestinal, and immune function, suggesting it may influence other internal systems as the body copes with stress.*2 By influencing HPA axis function, HPA Adapt is formulated to support stress hormone balance and a healthy stress response.*3
HPA Adapt contains Rhodiola root extract, Sensoril® Ashwagandha root and leaf extract, eleuthero root extract, maca standardized extract, and standardized holy basil leaf extract. This formulation was designed to:
Improve mood*
Create calm*
Reduce stress-related fatigue*
Support cognitive function*
Suggested Use:
Adults take 2 to 4 capsules daily on an empty stomach, or as recommended by your healthcare professional. For best results take in the morning and at mid-day.

Serving Size: 4 Capsules

Amount Per Serving
Total Carbohydrate … <1 g†
Rhodiola Root Extract … 400 mg**
(Rhodiola rosea) (standardized to contain 3% rosavins and 1% salidroside)
Ashwagandha Root and Leaf Extract … 300 mg**
(Withania somnifera) (Sensoril® brand)
Eleuthero Root Extract … 300 mg**
(Eleutherococcus senticosus)  (standardized to contain 0.8% eleutherosides)
Holy Basil Leaf Extract … 200 mg**
(Ocimum sanctum) (standardized to contain 2.5% triterpenoic acids including ursolic and oleanolic acids)
MacaPure® brand Maca Root Extract  … 150 mg**
(Lepidium meyenii) (standardized to contain 0.6% macaenes and macamides)
Other Ingredients: Hydroxypropyl methylcellulose (vegetable capsule), ascorbyl palmitate, cellulose, silicon dioxide.
HPA Adapt™ Does Not Contain
Salt
Gluten
Soy
Dairy Products
Artificial Colors
Artificial Flavors
Wheat
Ingredients of animal origin
Quality Global Sourcing
Other Details
Sensoril® is protected under U.S. Patent No. 7,318,938, and is a registered trademark of Natreon, Inc.
MacaPure® is a registered trademark of Naturex, Inc.
Warning:
Do not use if you are pregnant or under 18 years of age. If you are nursing, diabetic, or taking any prescription drugs, consult your healthcare professional prior to use. Keep out of reach of children. Keep tightly closed. Store at room temperature. Avoid excessive heat and direct sunlight.
---