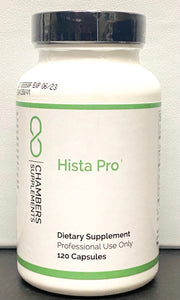 Chambers Supplements
Hista Pro (120 caps) by Chambers Supplements
Regular price
$49.80
$0.00
Unit price
per
HISTA PRO IS OUT OF STOCK, but we are allowing it to be purchased for party pre orders. If you order this for delivery and not for local pick up at our patient appreciation party we will ship it out as soon as it is available. It is esimtaed to be back in stock 10/31/2023. THANK YOU!
The Hista Pro formula includes optimal support for nasal and sinus passageways for individuals who anticipate seasonal changes. Also available in convenient blister packs.
Hista Pro is a targeted blend of flavonoids, antioxidants, proteolytic enzymes and botanicals designed to provide comprehensive support for seasonal challenges caused by common environmental allergens. The formula includes quercetin, bromelain, stinging nettles leaf, and N-acetyl cysteine. The powerful combination actively promotes healthy nasal and sinus passages for individuals with elevated histamine and respiratory irritation.
Supports Immune Balance in Hypersensitive Individuals
Supports Sinus and Respiratory Health
Promotes Normal Viscosity of Mucus
Clears Nasal Passages
Suggested Use:
Loading Dose: 2 capsules three times per day for 7-10 days or as recommended by your health care professional.
Maintenance: 1 or more capsules per day or as recommended by your health care professional.
Serving Size: 2 Capsules
Amount Per Serving
Vitamin C … 300mg
(as Ascorbic Acid USP)
Quercetin Dihydrate … 400mg*
Stinging Nettle … 400mg*
(Leaves)
Bromelain (2,400 GDU/g) … 100mg*
(from Pineapple)
N-Acetyl-L-Cysteine USP … 50mg*
Other Ingredients: Natural Vegetable Capsules, Magnesium Stearate, Silicon Dioxide, and Stearic Acid.
Does Not Contain:
Wheat, gluten, soy, animal or dairy products, fish, shellfish, peanuts, tree nuts, egg, artificial colors, artificial sweeteners or preservatives
Caution:
Do not consume this product if you are pregnant or nursing. Consult your physician for further information.
---