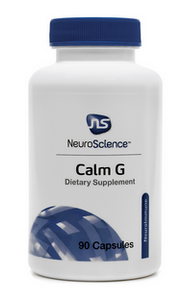 Chambers Supplements
Calm G by NeuroScience 90 Capsules
Regular price
$69.99
$0.00
Unit price
per
Contains a blend of ingredients important for regulating glutamate activity, stress-reduction, metabolic health, and mitochondrial function*
Key ingredients
N-acetyl-L-cysteine: Precursor to L-cysteine (1). L-cysteine is required for the synthesis of glutathione, an endogenous antioxidant important for mediating oxidative stress (2).
L-theanine: Amino acid that acts as a glutamate receptor antagonist (3).* Glutamatergic signaling underlies mechanisms related to anxiousness and stress (4). In a double-blind, placebo-controlled study, L-theanine was shown to significantly reduce stress (5).*

Alpha-lipoic acid: Antioxidant that is able to regenerate endogenous antioxidants and scavenge metal ions and free radicals (6).* Evidence suggests the insulin-signaling pathway is sensitive to redox status (6). Alpha-lipoic acid can influence the redox status in cells important for the translocation of glucose transporters and increasing glucose uptake (6).*
Coenzyme Q10: Compound found in nearly every human cell that is essential for mitochondrial function and antioxidant protection (7).*
References
Rushworth G and Megson I. Pharmacol Ther. 2014;141(2):150-9.
Schmitt B, et al. Redox Biol. 2015;6:198-205.
Kakuda T, et al. Biosci Biotechnol Biochem. 2002;66(12):2683-6.
Bermudo-Soriano C, et al. Pharmacol Biochem Behav. 2012;100(4):752-74.
Kimura K, et al. Biol Psychol. 2007;74(1):39-45.
Rochette L, et al. Can J Physiol Pharmacol. 2015;93(12):1021-7.
Garrido-Maraver J, et al. Front Biosci (Landmark Ed). 2014;19:619-33.
Take 1-2 capsules three to four times daily or as directed by your healthcare provider.
Serving Size: 2 Capsules
Amount Per Serving
Folate ... 272mcg
(as L-5-methyltetrahydrofolate, calcium salt**)
Selenium ... 70mcg
(from L-selenomethionine)
Proprietary Blend ... 1.1g
L-cysteine, L-theanine, Alpha-lipoic acid, Coenzyme Q10, and L-methionine
Other Ingredients: Vegetable capsule (Hypromellose, water), Microcrystalline cellulose, Magnesium stearate (vegetable source)., silica, and dicalcium phosphate
**This product uses Gnosis S.p.As (6S)-5-methyltetrahydrofolic acid, glucosamine salt (Quatrefolic®) and is protected by U.S. Patent No. 7, 947, 662. Quatrefolic is a registered trademark of Gnosis S.p.A., Milan, Italy.

If you are pregnant or nursing, consult your healthcare provider before use.
---