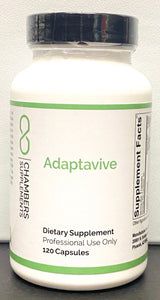 Chambers Supplements
Adaptavive (120 caps) by Chambers Supplements
Regular price
$54.99
$0.00
Unit price
per
Adaptavive's special blend of vitamins and adaptogenic herbs support normal adrenal function during occasional stress and fatigue.*
Improves Stress Resilience
Supports Healthy Energy Levels
Strengthens the Body's Stress Response
Improves Mental and Physical Performance
Helps Maintain a Balanced Cortisol-to-DHEA Ratio


Stress is defined as any disturbance –extreme cold or heat, psychological stress, sleep deprivation, work overload, physical trauma, as well as toxic exposure- that can trigger the stress response. The body's stress response system is comprised of the hypothalamic-pituitary-adrenal (HPA) axis. Prolonged stress triggers the HPA axis and consists of three stages: stage 1: alarm; stage 2: resistance; and stage 3: exhaustion.

Adaptavive contains a blend of key micronutrients and adaptogenic botanicals specifically formulated to strengthen the body's stress response and support healthy energy levels. Adaptavive also provides a unique blend of "stress adapting botanicals" which help increase the body's resistance to fatigue and maintain balanced cortisol and DHEA levels.
Take 2 capsules one or two times per day or as recommended by your health care professional.



Serving Size: 2 Capsules

Amount Per Serving
Vitamin A ... 150mcg
(from 500 IU as Natural Beta Carotene)
Vitamin C ... 200mg
(as Sodium Ascorbate USP)
Vitamin E ... 13.4mg
(from 20 IU as d-Alpha Tocopherol Succinate USP)
Niacin USP ... 20mg
Vitamin B6 ... 30mg
(as Pyridoxine Hydrochloride USP, Pyridoxal 5'-Phosphate)
Vitamin B12 ... 200mcg
(as Methylcobalamin)
Pantothenic Acid ... 350mg
(as d-Calcium Pantothenate USP)
Eleuthero Root Extract ... 150mg
(Standardized to contain 0.8% Eleutherosides)
Rhodiola rosea Root Extract ... 150mg
(Standardized to contain 3% Rosavins)
Schisandra Berry Extract ... 150mg
Ashwagandha Root Extract ... 75mg
(Standardized to contain 1.5% Withanolides)
Licorice Root Extract ... 75mg
(Standardized to contain 12% Glycyrrhizin)

Other Ingredients: Natural Vegetable Capsules, Microcrystalline Cellulose, Magnesium Stearate, and Silicon Dioxide.


Does not contain Wheat, gluten, corn, soy, animal or dairy products, fish, shellfish, peanuts, tree nuts, egg, artificial colors, artificial sweeteners or preservatives
Cautions: Do not consume this product if you are pregnant or nursing.

---