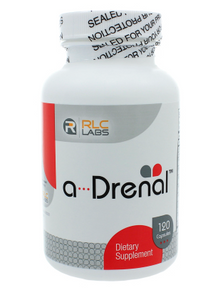 Chambers Supplements
a-Drenal by RLC Labs 120 capsules
Regular price
$43.99
$0.00
Unit price
per
a-Drenal is designed to combat the side effects of adrenal fatigue, while promoting the healthy function of the adrenal glands.
a-Drenal works in conjunction with Nature-Throid to balance any adrenal issues that may be hidden or masked by hypothyroid symptoms.
Comprehensive formulation of organic adrenal tissue and adaptogenic herbs
Works synergistically with Nature-Throid
Doctor approved
Provides effective support from stress induced symptoms
Promotes calm, balanced physical and mental energy
Helps maintain and normalize healthy cortisol and blood sugar levels
Supports healthy adrenal function
As a dietary supplement, 2 capsules twice daily or as directed
by a healthcare professional.
Serving Size: 4 capsule
Amount Per Serving:
Pantothenic Acid ... 250mg
(as D-Calcium Pantothenate)
Cordyceps sinensis Rhizome Powder ... 400mg
Adrenal Tissue ... 250mg
(from Organic Bovine*)
Ashwagandha Root PE ... 150mg
(Withania somnifera) (standardized for 1.5% Whithanolides)
Rhodiola rosea Root PE ... 100mg
(standardized for 3% Rosavins)
Siberian Ginseng Root PE ... 100mg
(Eleutherococcus senticosus) (Standardized for 0.8% Eleutherosides)
Korean Ginseng Root PE ... 100mg
(Panax ginseng)(standardized for 7% Ginsenosides)
Astragalus membranaceus Root PE ... 100mg
(concentrated 4:1)
Epimedium grandiflorum Herb Powder ... 100mg
L-Theanine ... 100mg
(from Green Tea Leaf PE)
Ginger Root PE ... 50mg
(Zingiber officinalis)(Standardized for 5% Gingerols)
Beta Sitosterol ... 40mg
Other Ingredients: Gelatin Capsule
Does not contain 
fillers
excipients
corn
dairy
egg
fish
glutens
peanuts
rice
shellfish
soy
sugar
yeast
artificial colors
flavors
preservatives
*Raised without the use of antibiotics, hormone
injectioins or GMA feeds.
Store in a cool, dry place.
Keep put of reach of children.
*These statements have not been evaluated by the Food and Drug Administration. These products are not intended to diagnose, treat, cure or prevent any disease.
---